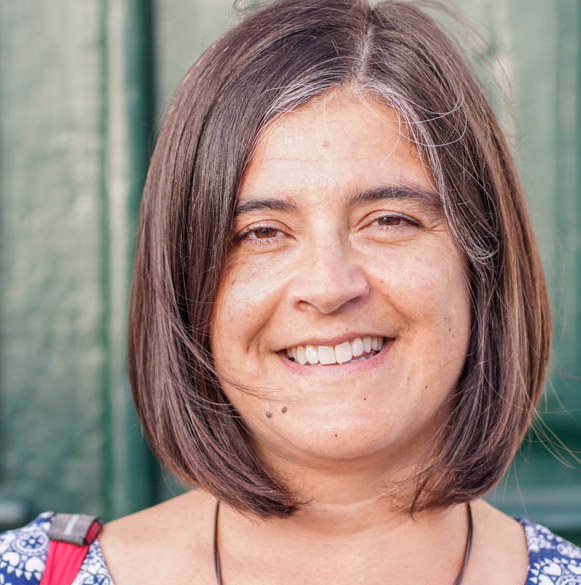 Armanda Rodrigues
Ph.D. in Information Science, City University
FTE Researcher NOVA LINCS (Previously CITI)
Multimodal Systems Group
Assistant Professor, DI - FCT/UNL
Regional Ambassador, Technovation Challenge PortugalL
Research topics
Web-GIS, Spatial Context, Geo-collaboration, Digital Heritage and Emergency Management.
Resume
The main issues in my research are inspired from very practical and real situations, characteristic of different computational environments where geospatial information and context is relevant. From this initial setting I am interested in providing models, methods, tools and infrastructures that may enable improvements in the use of Web/Mobile GIS systems, particularly focusing in changes in context and in collaborative environments. I have developed research toward enabling geo-collaborative integrative environments involving heterogeneous information sources and structured user hierarchies. I have been involved in several International and national research projects related with Geographic Information Systems, Simulation, Web-GIS and Geo-Collaborative Systems with case studies in the areas of Emergency Management, Digital Heritage and Agronomy.
If you are interested in these topics please contact me.
Teaching (in Portuguese)- 2019/2020
Primeiro Semestre
Introdução à Programação: Co-Regência e Aulas Teórico-Práticas
Segundo Semestre
Tecnologias de Informação Geográfica: Regência, Aulas Teóricas e Práticas (T1 e P1)
Aquisição e Tratamento de Imagem: Regência, Aulas Teóricas e Práticas (T1 e P1)
Ph.D.:
André Sabino, Potential Indirect Relationships in Productive Networks, Informatics, December 2016.
M.Sc. Pre Bologna:
António Gonçalves, Multi-Agentes para Simulação em Sistemas de Informação Geográfica, 2003 (with Luís Correia, FCUL).
Bologna M.Sc.:
André Sabino, Agent-Based Simulation for Risk Management, 2008.
Gonçalo Coelho, Localização espacial de serviços, 2008.
Renato Rodrigues, Spatial Operators for collaborative Map Handling, 2009.
Ana Oliveira, AspectMapping Modular GIS Applications with Aspects (with João Araújo), 2009.
Jorge Costa, Synchronous Spatial Operators for collaborative Map Handling, 2010.
Sara Silva, Modelação de Concerns Voláteis em aplicações geoespaciais: O caso dos Concerns Geoespaciais (with João Araújo), 2010.
Tiago Amorim, Visualização de Padrões Pessoais de Movimento (with Nuno Correia), 2010.
André Simões, Avaliação de Cenários de Emergência com base em Dados Reais (With the National Authority for Civil Protection, 2011.
Fábio Afonso, Pesquisa de Eventos Geográcos Semelhantes: Trajectórias de Objectos em Movimento (with Fernanda Barbosa), 2011.
Ana Isabel Fernandes, Estudo comparativo entre Interfaces de Aplicações de Programação de mapas (with Miguel Goulão), 2012.
João Gouveia, VisualAUThor - Uma plataforma de visualização de relações de colaboração, 2013.
Carlos Correia, Improvements in the Geocoding Process in Organizational Environments, 2013.
José Emanuel Cunha, Detecção automática de actividades agronómicas, (with Carlos Damásio), 2013.
Fernando Branco, Evolução espácio-temporal de imagens, (with Nuno Correia),2 014.
João Rosa, Measuring Social Networks User Density in Areas of Interest,(with André Sabinio), 2015.
António Almas, LITESCAPE.PT: Developing a Portuguese Literary Atlas,(with Nuno Correia), 2015.
Luís Antunes, Deteção Automática de Atividades (Aplicação à Agronomia),(with Carlos Damásio), 2015.
Rafael Bizarra, LiveTeams: Gestão de Emergência online adaptativa pelo contexto, 2016.
Alexandre Maia, Plataforma para análise de estruturas costeiras, (with Rute Lemos - LNEC) 2016.
Claudio Borges, Elicitação de Requisitos de Domínio para Sistemas de Emergência usando Redes Sociais, (with João Araújo), 2016.
Joana Pereira, Plataforma para disponibilização cartográfica do acervo do Museu do Turismo (in collaboration with ESHTE and ESRI-Portugal), 2017.
Ruben Fonseca, Integrating georeferenced historical information (With Nuno Correia), 2018.
Guilherme Seabra, Improving Mobile GIS applications through the identification of Geographic Context, 2019.
José Castanheira, Representing and Indexing Archaeological Information (With Nuno Correia), 2019.
Joana Páris, Gamification in building automation - the Human in the loop in a Cyber-Physical System (With Vasco Amaral), 2019.
Roberto Veloso, Linguagem para modelação de requisitos de interface para WebGIS (Com João Araujo), em desenvolvimento.
Miguel Oliveira, Uma abordagem de elicitação de requisitos para alterações climáticas utilizando redes sociais(com João Araujo), em desenvolvimento.
Francisco Gouveia, Developing a responsive platform to promote and facilitate recycling (With Teresa Romão), ongoing.
Diogo Silvério, Developing a framework for managing a Soundscape Structured Domain (With João Araujo), ongoing.
Address: Office P2/17, Departamento de Informática, FCT/UNL, Quinta da Torre, 2829 -516 CAPARICA, Portugal
Phone: ++351212948536, Ext.: 10783
Fax: ++351212948541
E-mail: a.rodrigues[AT]fct.unl.pt