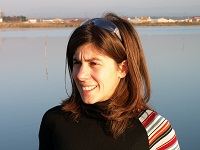 I am Associate Professor at the
Department of Computer Science
at the
Faculdade de Ciências e Tecnologia/Universidade Nova de Lisboa
(FCT/UNL), Portugal, since October 2007. I am a researcher and integrated member of the NOVA Laboratory for Computer Science and Informatics (
NOVA LINCS
). My research interests include HCI, multimedia systems, augmented reality, mobile storytelling, ubiquitous computing and persuasive technology. I have been involved in several national and European projects related to these research areas.
During my Ph.D. titled "Multidimensional Visualisation of Spatial Information - Improving Data Accessibility and Perception", part of my research work was developed at the
Vrije Universiteit – Amsterdam
. After doing my Ph.D., and before becoming an Assistant Professor at the FCT/UNL, I was Assistant Professor at the Computer Science Department at the
Universidade de Évora
.
I am member of the Digital Media Ph.D. Scientific Committee in the scope of UT/Austin-Portugal Program. I am also a member of the MIEI (Integrated Master in Computer Science and Engineering) Scientific Committee at FCT/UNL since 2014. I supervised (or co-supervised) 4 Ph.D. and 25 MSc students who have already completed their degrees and
I am currently supervising (or co-supervising) 5 Ph.D. students and 5 M.Sc. students. I have authored and co-authored many publications in books and peer reviewed journals and conferences such as CHI, UIST, MobileHCI, INTERACT, ACE and MUM. I have been involved in the organization and served on the program committees of various national and international conferences, such as INTERACT, IUI, MobileHCI, ACE, Eurographics and EICS. I was also a member of the Steering Committee of the International Conference on Advances in Computer Entertainment - ACE (2012-2017).